Introduction
I would like to share with you some of the tools and apps I use for creating art on mobile devices (see my Mobile Art gallery page on my art site JeremySutton.com). Whilst on this page I refer primarily to the iPad, the styluses will work with most mobile devices with capacitive screens. I also use other mobile devices besides the iPad for making art, including the Microsoft Surface Pro and the Wacom Cintiq Companion. One of the inspirations for painting on my iPad is David Hockney, whose magnificent large format prints and video replays of his iPad drawings I first saw at the Royal Academy in London and then, subsequently, at the de Young Museum (where I performed live iPad drawing at the opening of the exhibition). The David Hockney: Bigger Exhibition at the de Young served as a great learning opportunity. I ran a couple of two day Inspired by Hockney iPad painting workshops based on visits to the exhibition. I am excited to bring the inspiration, lessons and energy of Hockney to my mobile painting workshops such as my upcoming Paint on the Go!.
Which Stylus to Choose?
Mobile painting is in an exciting period of growth with new styluses, devices and apps being developed, improved and introduced continually. Thus whatever I share and recommend here on this page is a snapshot of my current faves at the time of writing. When it comes to styluses, there is a huge amount of choice. I find that different styluses are good in different circumstances. My top three are currently:
the brand new Adonit Jot Touch with PixelPoint (pictured below) that just came out and has a precision tip and pressure-sensitivity (with Jot enabled apps);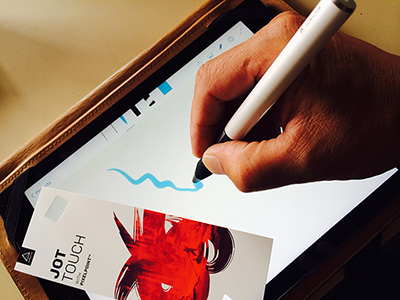 the Pencil by Fifty Three (pictured below) with a wonderful wood option that looks and feels like a carpenter's pencil and gives a silent soft painting experience;
and the Sensu Artist Brush (pictured below) that is great for washes, glazes and watercolor type brush work. A downside of brush styluses is that in some apps when you press down and the brush hairs splay out, that causes the canvas to wildly resize and rotate.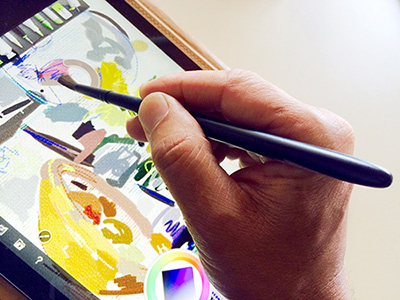 Besides the newest Adonit Jot Touch please note there are other pressure-sensitive iPad styluses on the market that you may wish to consider, such as the Wacom Intuos Creative Stylus, Ten One Design's Pogo Connect and HEX3 Jaja.

Painting in the Tate Britain cafe. The Sensu brush is on the iPad cover and I am holding the Adonit Jot Touch in my hand.
Which Painting Apps to Install?
My current favorite painting apps on the iPad are Sketch Club and Art Rage. These are just two of many great drawing and painting apps out there, all inexpensive, mostly under $5. I would recommend experimenting with them and then honing in on the ones that resonate for you. Each have their own fan base and loyal aficiandos. Here are some of them: Zen Brush, Brushes, Procreate, SketchBook Pro, Inspire Pro, MyBrushes Pro, ArtStudio, Art Set, Auryn Ink, Sketji and ASKetch. One of the challenges I initially found exploring many different painting apps on the iPad was simply recognizing which app I was in! It was surprisingly difficult since most do not have an identifying name or logo within the app UI (user interface) itself. Each app involves finding things in different places and using different shortcuts and conventions etc, so recognizing which app you're in is essential. Each app allows you to create a unique look and feel of artwork that is specific to the range of brushes and media of that particular app, and you can easily move work from one app to another, building up on different looks.