Ten minute video showing the Gatsby Summer Afternoon, September 2007. This will give you a little taste of what to expect….

Gatsby Stroll, 2015, MacBook Pro + Corel Painter 2016 + Wacom Intuos Pro M
A Corel Painter Mixed Media Art Class Like None Other!
Become a Gatsby Impressionist! After a year and a half of virtual teaching, I am very pleased to welcome you back to an in-person, in real life ("IRL"), not-on-Zoom 🙂 workshop, celebrating the return to in-person events and the start of the 21st century Roaring Twenties! This workshop starts off with a memorable "photo-safari" and Impressionist experience at the Gatsby Summer Afternoon, a magnificent 1920s themed public event organized annually by the Art Deco Society of Northern California that takes place at the Dunsmuir-Hellman Historic Estate in Oakland, California. At the Gatsby Summer Afternoon everywhere you turn looks like an impressionist painting. It is reminiscent of a Downton Abbey garden party! Besides the joy of capturing incredible images, you will also be able to enjoy picnic luncheon, dancing to the Don Neeley's Royal Society Jazz Orchestra, seeing the Deco Belles dance troupe perform and viewing vintage automobiles. Over the subsequent four days you will study and learn impressionist style painting strategy, workflow and techniques, and how to apply them while working from photographic reference within the latest version of Corel Painter as well as when applying acrylic gel and paint onto a pigment print on canvas of one of your paintings. Learn to paint the atmosphere, light, movement, mood, people and music of an unparalleled visual feast. The class size is limited to six students, small enough to ensure that every student receives personal one-on-one attention and assistance throughout the workshop. It is required that everyone attending has been fully vaccinated against COVID at least two weeks before class starts. Appropriate social distancing protocols will be followed as per CDC and state recommendations at the time of the workshop.

Summer Afternoon created by Jeremy Sutton using Corel Painter

With almost 900 people, all dressed to the nines in 1920s style, plus many magnificent vintage cars in pristine condition, there are amazing beautiful vignettes every direction you look!
The Syllabus
Welcome & Warm-Up
Saturday, 2pm – 6pm, San Francisco
Twenties Charleston dance lesson, a visit to the Japanese Tea Garden and the Palace of Fine Arts.

Inspiration & Image Capture
Sunday, 1pm – 6pm, Gatsby Summer Afternoon, Oakland
Attend and immerse yourself in the impressionist experience of the Gatsby Summer Afternoon. This afternoon is devoted to on-location photography at this once a year Art Deco event in the grounds of a historic home in Oakland.

Foundation
Monday, 10pm – 5pm, Sutton Studios & Gallery
ART HISTORY – Introduction to the history, techniques and visual styles of the 19th century French Impressionist painters, such as Claude Monet and Auguste Renoir. See the Art World article on Impressionist Painting Methods.
PAINTER TECHNIQUE BASICS – Set up, navigation and optimization. Understanding the color picker and different ways to pick color. Understanding brushes and brush customization, organization and control. Applying Grainy brushes. The joy of Thick Paint and Thick Paint Compatible brushes. Understanding layers in Painter.

Impressionist Workflow
Tuesday, 10am – 5pm, Sutton Studios & Gallery
Learn how to apply the same techniques and principles of the French Impressionists within an impressionist digital photo-painting workflow using the latest version of Corel Painter and using source photos from the weekend. We will focus on artistic impressionist workflow, systems, techniques and strategies. For example, starting with loose, spontaneous, bold brush strokes with rich and varied colors; working from general to detail; paying attention to the whole composition; depicting the play and effect of light; and capturing atmosphere and mood. Includes advice on choosing and prepping images for painting.
Tuesday evening: class dinner with a view of the Bay Lights!

From Impression to Expression: Expanding Your Color
Wednesday, 10am – 5pm, Sutton Studios & Gallery
Expand your variety of marks and varying strengths of tonal contrasts; exploring new and custom brushes in Painter; and enriching your range of color and tone.

Mixing Media: The Joy of Post-Print Painting
Thursday, 10am – 5pm, Sutton Studios & Gallery
Experience adding physical media to digital prints to create one-of-a-kind unique artworks with added vitality and impact. Learn palette knife and brush techniques for gelling, painting, glazing and scumbling with acrylic media on canvas prints. Learn color mixing strategies and techniques.
Registration
Click here for REGISTRATION.
The registration fee for this workshop is $1,927. It includes: all instruction, class notes, entrance to the Gatsby Summer Afternoon, a seat at a table with sun shade for the event, Gatsby Summer Afternoon luncheon, refreshments during studio hours, a class dinner, an inkjet pigment print on canvas (approximately 16×20) of an image made during the workshop, post-print paint media and tools, an hour long one-to-one via Zoom within six months of the workshop. Students may bring with an extra guest to all social activities for an additional $90. Any social distancing mandates and protocols applicable at the time of the workshop will be complied with, possibly including the requirement of wearing masks, as well as physical distancing and provision of hand sanitizer etc. No matter what mandates are in place at the time of the workshop, great care will be taken to keep all surfaces, tools and equipment clean and sanitized, and hand sanitizer will be available at all times. The registration fee is non-refundable. In the unlikely event, for any reason, that the Gatsby Summer Afternoon is postponed to the following year, then the workshop fee will automatically be applied to that year instead. Due to the unpredictable nature of the pandemic I recommend that all travel and accommodation bookings are made with the flexibility to make changes up until the last minute. Travel, accommodation and meals, except the Gatsby luncheon and class dinner, are at the students own cost.

The historic Dunsmuir house serves as a majestic backdrop to many scenes – wonderful to observe and capture as the light changes during the afternoon
Who this Workshop is For
This is an all-levels workshop aimed at anyone who wishes to learn an impressionist approach to digital and mixed media painting based on photos you capture at the Gatsby Summer Afternoon. If you are not already familiar with using Corel Painter then please join PaintboxTV and follow some of my Painter tutorials first so you can get the most out of the workshop.
Preparation and Requirements
COVID Vaccination Required
All attendees must be fully vaccinated against COVID at least two weeks before the beginning of the workshop.

Equipment
You'll need to bring your own computer, Mac or PC, with plenty of free hard drive space and lots of RAM, the latest version of Corel Painter, a Wacom tablet and the latest Wacom driver installed on your computer.

Click here to purchase, or upgrade to, Corel Painter 2021 (including any special offers available). For complete disclosure, purchasing the full or upgrade of Painter 2021 through this link may result in me earning a small commission, but will not effect your price and all current special offers still apply.

Camera
Please bring a digital camera, with extra memory cards and batteries. A mobile phone camera is perfectly acceptable, though the organizers of the Gatsby Summer Afternoon prefer not to see too many modern smart devices on display. Please ensure all batteries are fully charged before the Gatsby Summer Afternoon. There are no electrical outlets! Make sure you have plenty of CF card space—plan on taking a lot of photos!!

Gatsby Afternoon Style Clothing
For the Gatsby Summer Afternoon the dress code is "afternoon attire" in the style of the 1920s/30s, or some approximation to it. You can wear light colored modern clothing with a vintage style to it. You can see from the photos on this page examples of the clothing students have worn for the event in the past. It can be very sunny at this event so bring sun cream, wide brimmed hats and sun parasols as needed. The Art Deco Society of California has guides for how to dress for the Gatsby Summer Afternoon  for ladies and for gentlemen.
Other Inspirational Places to Visit for Visitors to San Francisco
If you are visiting San Francisco I recommend making time prior to the workshop to visit the following locations:
Legion of Honor Museum Enjoy the beautiful colorful Impressionists collection. The museum also has a great cafe for lunch.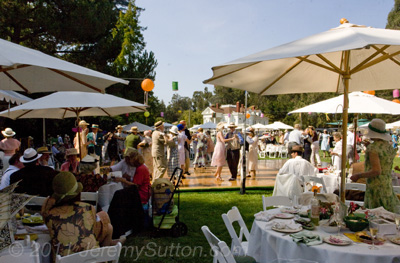 And of course the dancing to the live jazz sounds of the Don Neeley's Royal Society Orchestra
"This workshop was fun and fabulous! It exceeded all of my expectations. Jeremy is fantastically talented as well as very supportive. He has a gift for teaching, covering things very thoroughly and methodically without skipping steps, and with incredible enthusiasm and energy. He was able to convey a foundation of art and digital painting. I loved everything about this course…Jeremy, his lovely partner Peggy, the ambience of his studio, their energy, the music and, of course…painting."
Gail D., Great Gatsby Impressionist Workshop 2014 Alum

Gail applying acrylic paint with a palette knife

Gail and her painting Ice Cream Man
At the end of the workshop you will take home an impressionist style mixed media study on canvas and enough wonderful source photographic images to keep you busy painting for many years to come!

Peggy's table setting

The spread!

Peggy and roses

Cheers!
Click here for directions to Sutton Studios & Gallery, San Francisco

Henk working on a waterlily painting inspired by the Japanese Tea Garden.

Warming up with still life painting…

Kimber and Gail gelling their digital prints

Jeremy explaining during the post-print painting portion of the workshop…

Arthur applying palette knife painting techniques

Details from Ginny's painting

Dressed to the nines!

The table setting.

Dancing to the Royal Society Jazz Orchestra…
In addition to your instruction by Jeremy Sutton, you will also enjoy the input of Peggy Gyulai, professional oil painter trained at the Pennsylvania Academy of the Fine Arts who has been Painter in Residence with the San Francisco Chamber Orchestra and at the de Young Museum.

Laurie, Jeremy and Rick in front of Jeremy's portrait of Laurie and Rick.

Gatsby Impressionists 2015 holding their paintings

Kimber and her painting Checking Her Dance Card. Kimber, of Santa Fe, New Mexico, describes the workshop experience as "so inspiring and fabulous!"

At the Legion of Honor

Group pose