Introduction
I would like to share with you some of the tools, apps and kit I use for creating art on the iPad. This page is divided into three main sections: STYLUSES, APPS and KIT. Scroll down to see them all. You can see samples of my iPad art in the JeremySutton.com Art Gallery and see a summary of my upcoming iPad art classes and workshops in Classes and Events. Though I also use other mobile devices besides the iPad for making art – including the Android Touchjet POND, the Microsoft Windows Surface Pro and the Wacom Cintiq Companion (also a Windows device) – the iPad is my main mobile art device and therefore that is what I am focusing on here. Mobile painting is in an exciting period of growth with the iPad Pro and Apple Pencil, and an ever improving and growing range of fabulous art apps! I encourage you to try things and experiment. Whatever I share and recommend here on this page is simply a snapshot of my current faves at the time of writing and is likely to change.
For a general discussion on mobile digital art please see my Thoughts on Mobile Digital Art. Other online resources worth visiting are MobileArt.how and Mobile Art Academy, both founded by my friends, Sumit and Caroline, co-founders and organizers of the annual mobile Digital Art & Creativity Summit.
STYLUSES
Which Stylus to Choose?
Apple Pencil
This is my top favorite, hands down! It is an absolute MUST HAVE if you have an iPad Pro (the Apple Pencil does not work on other models).
When it comes to styluses, nothing I have come across compares to the Apple Pencil / iPad Pro combination. When it comes to other styluses, I find that different styluses are good in different circumstances. I should also add that using your finger, instead of a stylus, is also fine! Many artists do and with amazing results (see Kyle Lambert's artwork as a wonderful example of what can be achieved with painting with your finger).
For any model of other iPad other than the iPad Pro, styluses to consider include the following (all of which also work fine on the iPad Pro, but none equal the Apple Pencil):

Wacom Bamboo Sketch
Very comfortable and with great pressure-sensitivity when used with apps like Zen Brush 2.

Pencil by FiftyThree Digital Stylus – Walnut edition

The Walnut Pencil by FiftyThree is very light and comfortable to hold, looks and feels like a carpenter's pencil and gives a silent soft painting experience. In addition to be available for purchase online, it is now also available at all Apple Stores. Be aware that the rubber tips wear out fast so I recommend ordering some extra Pencil by FiftyThree replacement tips and erasers (53T003)
when you purchase the Pencil stylus.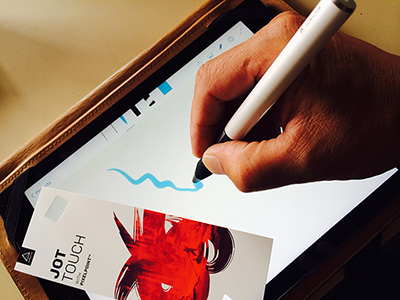 Adonit Jot Touch with Pixelpoint
This has a precision tip and pressure-sensitivity with Jot enabled apps. It is a little heavier than the Pencil by 53 or Wacom ICS, which may suit some users who prefer a heavier feel.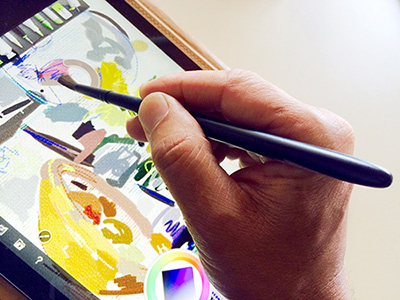 Sensu Stylus Brush

This brush is great for washes, glazes and watercolor type brush work.
APPS
Which Painting Apps to Install?
There are many great sketching and painting apps out there that are ideal for the artist, all relatively inexpensive. I'll focus here primarily on apps I use for fine art freehand artwork which emulate natural media and are generally producing 'bitmap' files, as opposed to 'drawing' apps which produce vector graphics. Some sketching and painting apps also allow you to use photographs as images to paint over and/or as reference and also to transform the images. Some art apps are designed specifically with photography in mind and are mainly for transforming and manipulating existing imagery and photographs, rather than making new works from a blank canvas. The difference between all these types of apps is blurred and I have categorized them below based on the way I use the app (for instance I use PicsArt as a painting app even though it was designed with photography in mind and the 'draw' feature is a small part of the app).
There are so many art apps, with new ones appearing every week, that I can't possibly include them all and this is not meant to be an exhaustive list. It seems that almost every art app has it's own enthusiastic fans and following. The versatility, sophistication and complexity of an app doesn't automatically mean it will be better for you or allow you to create "better" work. I have seen wonderful, accomplished and polished artworks created using the simplest apps and tools. The question to ask when choosing an app to use is less "can I create a great artwork with these tools" and more "does this app resonate with me and do the tools, interface, brush looks, functionality, customizability and effects excite and inspire me?" Choosing apps is a very personal affair and no two artists will feel exactly the same about all these apps.
I would recommend experimenting with all the apps you can find and then honing in on the ones that resonate for you. Each have their strengths and weaknesses, each have their own fan base and loyal aficionados. I list below of some of the creative apps I have on my iPad that you may wish to explore. I've included links to their iTune pages and current prices as of the time of posting this (subject to change and including the main in-app purchases and pro edition upgrades where available – I recommend purchasing the best tools and options available for each app). The first eight apps I mention are those I would take with me to a desert island – at least one with iPad recharging power and internet! (Desert Island Discs is a long-running BBC Radio 4 program I grew up listening to on which celebrities share which eight records they would take with them to a desert island).
My Desert Island Eight Favorite Sketching, Drawing and Painting Apps
Other Sketching, Drawing and Painting Apps
Photo Effects, Filters and Image Processing Apps
Video Adjustment & Enhancement Apps
Printing and File Management Apps
One of the initial challenges I found exploring many different drawing and painting apps on the iPad was simply recognizing which app I was in! It was surprisingly difficult since most do not have an identifying name or logo within the app UI (user interface) itself. Each app involves finding things in different places and using different shortcuts and conventions etc, so recognizing which app you're in is essential. Each app allows you to create a unique look and feel of artwork that is specific to the range of brushes and media of that particular app, and you can easily move work from one app to another, building up on different looks. Here are screen captures showing the look and feel of some of the apps listed above.
KIT
En Plein Air iPad Art Kit: From Cases and Easels to Umbrellas and Cleaning Cloths
SOLO Sentinel Slim Case for 12.9 Inch iPad Pro
Mudder Pencil Holder Leather Sleeve for 12.9 Inch iPad Pro Apple Pencil, Black
Global Leather Zippered Pencil Case for iPad Styluses
Wood mini-easel for sketching at a table – great for still life painting and portraiture
Winsor & Newton Brent H-Frame Table Easel, Mini
Light weight metal tripod easel for vertically mounting your iPad – great for plein air painting and presentations
Napoli Easel with Carrying Case – Black
Light weight (4.25 lbs) plein air adjustable angle sun shade with black interior for minimizing reflection on your iPad screen when painting outdoors.
Guerrilla Painter Shadebuddy Umbrella with Stand and Bag
iKlear iPad screen complete cleaning kit
iKlear Complete Kit – Eco-friendly Package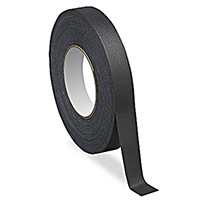 Black gaffer cloth tape – useful for just about everything! From making sure your iPad doesn't slip off a surface, to securing adaptors and wires, and attaching an umbrella to your chair or stand.
Black Gaffers Tape 1 in. x 60yds
Light weight portable adjustable stand for placing your iPad on – great for traveling, plein air painting and presentations as a flat surface alternative to an easel.
insTand CR3 Portable Laptop Stand for Standing or Sitting
These final two items are only relevant if you have an iPad Air model, not a newer iPad Pro.
Great all round iPad Air case with adjustable stand and a place to hold your stylus – great for general purpose painting anywhere and always having your Pencil by 53 with your iPad. Also includes very useful hand-strap for supporting iPad with one of your hands when standing
Lynktec iPad Case
Handy shoulder bag that protects your iPad Air and is easy to carry with you – great for carrying your iPad painting kit with you everywhere
STM Scout 2 iPad Shoulder Bag, Black (dp-1800-03)