Live Painting Presentation by Painter Master Jeremy Sutton
Free Event Sponsored by Corel UK
Enjoy live digital painting demonstrations as artist, author, educator and Painter Master Jeremy Sutton uses Corel Painter 12 with a Wacom tablet to create artworks in a variety of styles and media. Jeremy will share creative ideas, techniques and workflow for working from photographs as well as painting from life.
PLEASE NOTE THAT THIS EVENT AT THE CANADIAN HIGH COMMISSION, PLUS THE ONE DAY WORKSHOP IN MAIDENHEAD, HAVE ALREADY HAPPENED. I MAY ORGANIZE SOMETHING SIMILAR IN THE FUTURE SO PLEASE FEEL FREE TO EMAIL ME IF YOU ARE INTERESTED TO BE KEPT POSTED.
Date, Time, Location
Wednesday, 13th February, 2013
18:30 to 19:00 Welcome meet and greet
19:00 to 20:00 Seminar Part 1 – Painting the Passion of Dance from Photo Reference
20:00 to 20:15 Light refreshments served
20:15 to 20:45 Seminar Part 2 – Painting a Portrait from Life
20:45 to 21:00 Q & A and drawing for great door prizes (see below)
21:00 to 21:30 Networking
High Commission of Canada to the United Kingdom, Macdonald House side entrance (*NOT the main Grosvenor Square entrance), 41 Grosvenor Street, W1K 4AB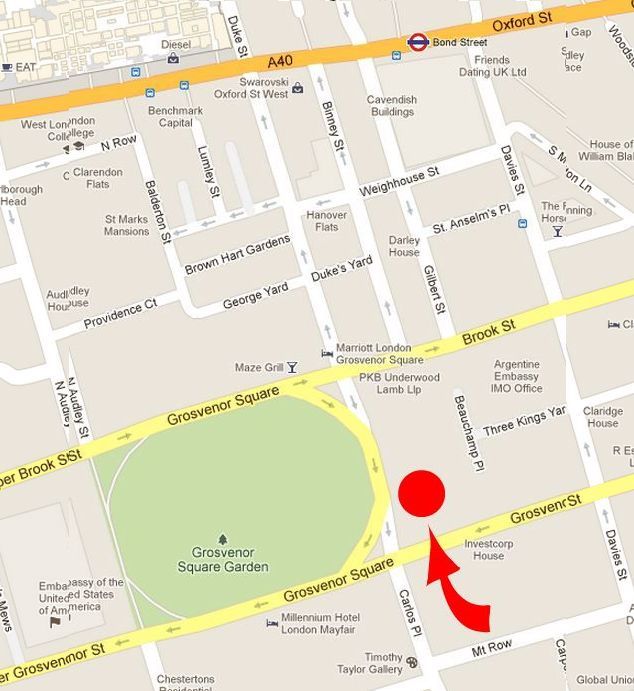 Thanks to the sponsorship of Corel, a Canadian corporation, we are very fortunate to be able to hold this event in the magnificent Macdonald House, a historic building, formerly the American Embassy, named after the first Canadian Prime Minister.
Great Door Prizes!
Everyone who attends this presentation will have the opportunity to be entered for a free prize draw, the prizes for which include Corel Painter 12, a Wacom Intuos5 Touch Medium tablet, Corel DRAW, Corel PaintShop, Corel VideoStudio, Corel AfterShot and a complimentary month of PaintboxTV Premium Membership (or a complimentary Jeremy webinar / webinar recording if you are already a PaintboxTV member). Thank you to Corel UK and Wacom Europe for their generous donation of raffle gifts.
How to Register
Every person who attends this event must be registered (a requirement of the High Commission of Canada). Spaces are limited so please register early to ensure your place. To register please email jeremy@jeremysutton.com the following information (which I recommend you copy and paste into your registration email):
First and last name

Street address

City, Region, Postal Code

Country (if other than UK)

Telephone

Email

Are you a current Painter user?

If so for how long and which version of Painter are you currently using?

Do you use a Wacom tablet?

If so which model/s do you have?

If you are not yet on my email list, would you like to be kept posted of my art events and educational news?

Any comments or any questions you'd like to see answered during this presentation?
If two or more of you wish to attend, please include answers to these questions for everyone in your group.
IMPORTANT!
Please bring government issued photo ID (drivers license or passport)
The High Commission of Canada requires that everyone who attends this presentation shows a government issued ID. Please remember to bring either a drivers license or passport. We will not be permitted to let anyone in who does not have photo ID with them.
Special Offer: PAINTER SHOWCASE
I have brought with me to the UK two copies of the beautiful 11″ x 11″ 328 page full color coffee table PAINTER SHOWCASE book, just published. Save yourself the shipping charges (est. $50) by purchasing one of my two copies via the PaintboxTV Store ($116). I will then bring your signed personalized copy with me to this event, and may even create a quick live sketch of you in it as well!
Intro to Painter 12 – One Day Hands-On Workshop – 20 Feb 2013
If you are interested in following up this presentation with more in-depth hands-on Painter instruction, or cannot make it to the "Painter Live!" presentation but would like some Painter instruction, then please consider the Intro to Painter 12 – One Day Hands-On Workshop, 20 February, in the Corel UK Ltd building in Maidenhead. I am also available for One-to-One Personalized Painter Instruction
A big thank you for James, Jo and everyone else at Corel UK for their generous support in sponsoring this event and organizing such a great venue, plus for letting me run my one day workshop on 20 February in their Maidenhead facility. I look forward to seeing you on the 13th February.
Click here for special Corel offers and bundles from the Corel.com/JeremySutton page
About Jeremy Sutton
Corel Painter Master Jeremy Sutton, author of the Painter Creativity series of books and founder of PaintboxTV.com, the online digital painting training resource, grew up in London and studied life drawing, sculpture and etching at the Ruskin School of Drawing and Fine Art, Oxford, U.K., while earning a degree in Physics from Pembroke College, Oxford University. He then studied lithography and life drawing at the Vrije Academie, The Hague, The Netherlands, before moving to the heart of Silicon Valley, California, in 1988. He was first introduced to using the computer as a fine art tool in 1991, and has been exploring the digital art medium ever since, using, teaching and demonstrating every version of Painter (he is on the Corel Painter Beta Testing Team and Advisory Council). After a career selling superconducting magnets for Physics research, Jeremy became a full time professional artist in 1994. His art commissions have ranged from painting a live digital portrait of Sir Richard Branson on the Virgin Atlantic San Francisco Inaugural to performing live painting as a tableau vivant at the de Young Museum (portraying artists Edgar Degas, Vincent van Gogh, Pablo Picasso and Henri Matisse), painting one of the large Hearts on Union Square, San Francisco, and performing live digital painting for the Cirque du Soleil TOTEM show in their Tapis Rouge VIP tent in San Francisco. Jeremy teaches workshops and classes throughout the year (see http://www.paintboxtv.com/calendar/).