"Jeremy is truly a master with X3. It's a good thing for me to learn so much more about X3. It was a great class, and even though it was touted as and intro to X3, I truly learned so much more about the program. He's just got a way with teaching the program. He's quite a workhorse. Amazing dedication. Oh, and I got to pay the accordion for a brief moment towards the conclusion of the class."
– Paul Tumason, studio audience member
"Wow!!! I have just spent the last three days watching your creativeLIVE presentation and it was, in a word, FANTASTIC! Your incredible knowledge of Painter x3 coupled with your amazing creativity and delightful teaching manner = a winning combination.
I have spent the past year focused on iPad art but after watching your creativeLIVE course, I am eager to dive back into Painter.
Thank you for the inspiring creativeLIVE course and thank you for all the tremendous work you do in the world of digital painting.
Best wishes,
Christianna"

Looking Down Divis' by Jeremy Sutton © 2013
In a Nutshell
Drawing on my experience as a professional artist using Painter for over twenty years (since version 1) and working in traditional art media for many years before that, I guide you step-by-step through the ins and outs of the Corel Painter X3 interface and share my approach to painting from photo reference, an approach in which I emphasize creative freedom, spontaneity, improvization, boldness of color and tone, and use of freehand painting based on careful observation of your source photo. Along the way, you'll learn practical tips and shortcuts for using this powerful creative tool to its full potential in an efficient and creatively freeing way. You'll learn how to select and prepare source images for painting, how to set up up your Wacom tablet settings, how to optimize Painter through the import of a custom workspace, how to navigate around the interface, and how to choose, control and customize brushes. Beyond those basics you'll also learn a photo painting workflow that includes generating multiple clone sources, establishing consistent organizational systems and understanding the new clone source and reference image system. We'll work with a variety of my favorite brushes and paper textures, and learn how to create custom brushes and papers and apply them in your paintings. By the end of this course, you'll be able to enjoy painting with Corel Painter X3 and transforming your photographs into painterly artworks.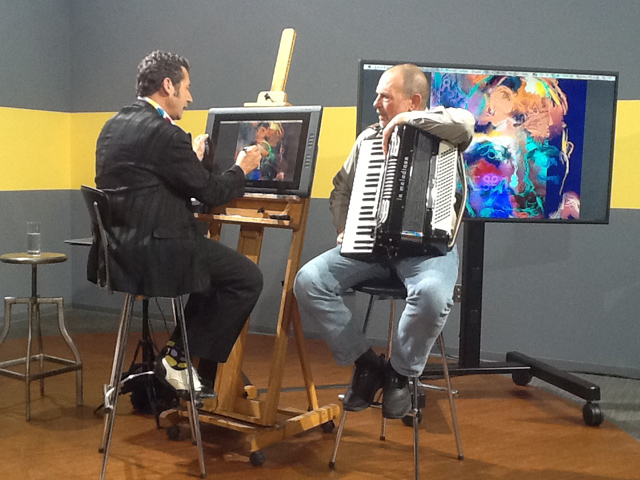 Painting a live portrait of studio audience member, artist, photographer and accordianist-extraordinaire, Paul Tumason
Resources & Links
For links to purchase, or upgrade to, Corel Painter X3 software and a Wacom tablet, plus other tools and resources you see me using in this course, please see What's in My Studio. Join PaintboxTV.com for the custom PaintboxTV Painter X3 workspace which includes many of the extra brushes, papers and other custom art materials you see me use in this course.
Besides PaintboxTV, another great online resource for helping you with Corel Painter is PainterFactory.com. PainterFactory is set up and run by Corel. It includes great discussions, blogs and posts, and links to other artist's web sites and to other learning resources. I have a blog on the site.
Two contributors to my workspace whose sites you may wish to visit are David Gell who shares his David's Sui Rui brush and helped facilitate the shortcuts search in my workspace, and Denise Laurent, the creator of the all time favorite Den's Oil Funky Chunky.
PDFs with insights into the history of Painter (article by Painter co-creator Mark Zimmer), Wacom (article by Wacom CEO Mr. Yamada) and Vutek prints (article by Richard Noble).
Paintings you'll see on Day 1: Looking Down Divis' (influenced by seeing a Richard Diebenkorn exhibition at the de Young museum), John Santos and Dance Rehearsal. Plugins mentioned on Day 1: Nik Collection and Flaming Pear.
Paintings you'll see on Day 2: Marcus Shelby and Moment in Time. Mentioned on Day 2 was the reference to James Weeks "Two Musicians" as an inspiration for my demo project of the couple dancing to the Danny Brown Trio. Other Painter artists mentioned include Justin Buus and Android Jones.
Paintings you'll see on Day 3: Island and Jan Wahl. You'll also see a fabulous cartoon by British artist Victor Lunn-Rockcliffe. In the first segment of Day 3 I give a presentation on lessons we can learn from master artists and mention Henri Matisse's Femme Au Chapeau. At the end of segment 2 on day 3 my fabulous creativeLIVE Content Producer Celeste joins me in a little spot of Lindy Hop swing dancing to the lively tune of "Roll That Boogie" written by Chris Siebert, copyright Fat Note Records, and performed by Lavay Smith & Her Red Hot Skillet Lickers (and used with permission of Chris and Lavay).
Output
If you don't have your own inkjet printer capable of printing out your paintings onto canvas, or simply wish to get larger canvas (or other substrate) prints, then you have lots of online options, in addition to your local service bureaus. I have used BayPhoto for my metal prints and am always very happy with their quality, turn-around and service. They also print on canvas and fine art papers. Other vendors include Simply Color Lab and Mid-South Color Labs.
Dancing breaking out on set!!! Above you see me about to break dance to Paul's live accordian polka! One of the hosts, Evelyn, described it like this: "Accordion, Breakdancing, Lindy Hop, Digital & Physical Artistry…& Gluten-Free Crepes? All we need is a unicorn today & we've quite literally covered it all!"
When I brought my producer Celeste on stage for a splash of Lindy Hop Swing Dancing, one report in a VentureBeat article entitled "Don't want your brian to rot? creativeLIVE makes it easier to continue your education" describes us as "creativeLIVE's dancing experts teaching students how to swing"! (I really do teach digital painting in this workshop…Lindy Hop lessons is for another time:-)
The In-Person Workshops I Recommend as a Follow-up for this Course
This course will help you get going with creating painterly digital paintings from your photos using Corel Painter X3. If you wish to consolidate your skills with an in-person hands-on workshop, plus , then I recommend:
Amsterdam Painter Workshop, November 25 – 27, Amsterdam, The Netherlands.
Painter Creativity Workshop, January 20 – 24, in my San Francisco studio (includes post-print painting: adding acrylic gel and paint onto your canvas prints).
I also offer personalized one-to-one training, both in-person and online.
During the workshop I mentioned my live iPad painting at the opening of the David Hockney exhibit at the de Young Museum, and mentioned that would be a great topic to include in a future creativeLIVE course. Apparently several people asked about learning iPad painting and I want to let them know that I teach iPad painting workshops and have one coming up December 17 – 18, Paint on the Go! Inspired by David Hockney. It'll be wonderful if you can join the workshop!

Impassioned by Jeremy Sutton © 2006
Thank you to the sponsors of the Quote Contest Prizes for this Course
While the creativeLIVE course was live there was an audience participation quote contest. Big thanks to Corel, Wacom, PaintboxTV and BayPhoto for sponsoring the fabulous prizes:
Complimentary two weeks PaintboxTV Premium Membership if you email me your creativeLIVE workshop recording purchase receipt
If you purchase the recording of my creativeLIVE Corel Painter X3 Creativity Workshop I will provide you with a two week complimentary PaintboxTV Premium Membership which gives you access to all the Premium content on the PaintboxTV site, including over 200 video tutorials plus the downloadable PaintboxTV Painter X3 Extras I used in my creativeLIVE workshop. The Extras include my custom PaintboxTV Painter X3 Workspace with 82 extra brushes, 27 extra templates, 16 extra color sets, 107 extra papers, 28 extra patterns, 80 extra flow maps, 19 extra image hose nozzles, 6 palette layouts, 8 shortcut palettes, plus more optimization of the interface and enhancement of the brush search feature. While a PaintboxTV Premium Member you may participate in the monthly PaintboxTV Painter Clinic, a virtual Q&A demo session where you can get help with your Painter projects and questions, and the PaintboxTV Community Forum where Premium members from all over the world interact, share artwork and ideas, and exchange tips and techniques. To redeem your complimentary PaintboxTV Premium Membership, first complete the PaintboxTV Free Visitor Registration Form, then email me your creativeLIVE receipt, with your PaintboxTV username, to jeremy@jeremysutton.com. I will then activate your two week complimentary PaintboxTV Premium Membership. If you are already a PaintboxTV Premium Member, please just email me a copy of your creativeLIVE email receipt and I shall add an additional two weeks onto your current term. Please note that since I manually activate each complimentary Premium membership it may take me a day or two to do that from the time you email me – thanks for your patience.
The Difference Between the Video Training Featured on PaintboxTV and this creativeLIVE Course
My creativeLIVE course will be like sitting in a workshop with interaction with both the in-person and online audiences. The structure allows for longer demonstrations than I generally use for my PaintboxTV videos, which I try to keep to five or ten minute chunks, and which I record without an audience. The creativeLIVE video recordings will not be part of the PaintboxTV content and are sold by creativeLIVE independently of PaintboxTV. However much of the material I cover in the creativeLIVE workshop is, or will be, covered in my PaintboxTV videos.
Enjoy my creativeLIVE Intro to Photo Painting: A Creative Approach Using Corel Painter X3 Workshop and your time on PaintboxTV.
Happy painting!

Pond of Enchantment by Jeremy Sutton © 2013