Paint on the Go! MIAMI
iPad Sketching & Painting Workshop
Sunday, January 12, 2014, 10am – 5pm
ArtCenter/South Florida,924 Lincoln Road (Room 100), Miami Beach, FL 33139
Workshop fee is $250.
To register please click here for the ArtCenter/South Florida web site registration page. Registration closes Friday, January 10th, 5PM EST.
If you're interested in learning how to sketch and paint on your iPad and have just needed help with the apps and/or motivation to get started, then this workshop is for you! In this hands-on workshop you will learn how to sketch and paint with a variety of powerful and fun painting apps on the iPad including Zen Brush, Sketch Club and Art Rage. The workshop includes sketching freehand from direct observation as well as how to make use of photo reference.
Click here to see examples of my iPad art . One of the inspirations for painting on my iPad is David Hockney, whose magnificent large format prints and video replays of his iPad drawings I first saw at the Royal Academy in London and then, subsequently, at the de Young Museum (where I performed live iPad drawing at the opening of the exhibition). The David Hockney: Bigger Exhibition at the de Young served as a great learning opportunity and I ran a couple of two day "Inspired by Hockney" iPad painting workshops based on visits to the exhibition. I am excited to bring the inspiration, lessons and energy of Hockney to this workshop!
"Fantastic class. I accomplished more than I anticipated – the class exceeded my expectations. I now look forward to you teaching an advanced iPad painting class…"
Jacqueline M., California
What You'll Learn: Primary Technical Objectives
Preparation & Organization: how to save, organize, share and back-up your iPad sketches and paintings; how to optimize your iPad and apps for maximum creative flow; how to connect your pressure-sensitive stylus to your iPad and the individual painting apps.
Painting Technique: how to define and open a new canvas and add color, texture and background imagery to it; how to choose, control and customize brushes; how to pick color; how to work with the app gallery and the share options within each app.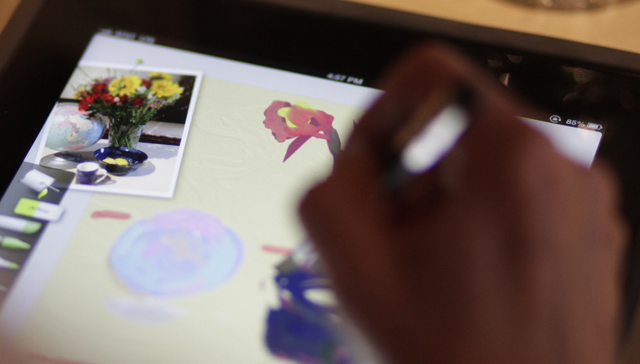 What You'll Learn: Primary Artistic Objectives
How to loosen and control quality of your line; how to see a subject in terms of major abstract compositional shapes or blocks and translate that onto your digital canvas; how to start out general and then work towards selective detail; how to choose, add and work with color, both for blocking out and for accents; how to harness the power of being committed to your marks and process; and how to know when to stop or step back.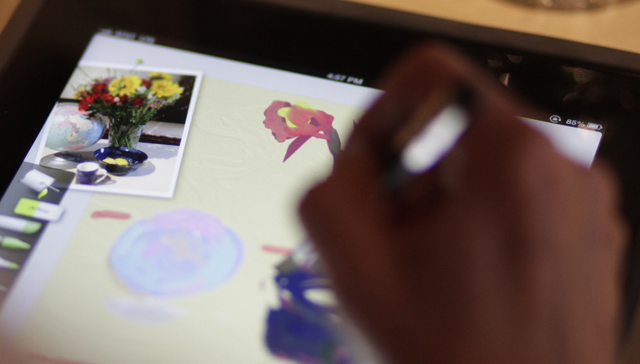 What you'll need to bring with you
This is a hands-on class. You'll need to bring an iPad or iPad mini, or the equivalent Android mobile device, with the latest versions of the following apps installed: Zen Brush, Sketch Club and Art Rage. Optionally you may also wish to install Brushes, procreate, Sketch Book Pro, Inspire Pro, Art Studio, ASKetch, Paper 53 and Bamboo Paper.
You will also need to bring a stylus of some kind with you, ideally a pressure-sensitive stylus. I have placed below Amazon links to styluses particularly suited to painting. My current top favorites are the Adonit Jot Touch pressure-sensitive stylus (get the older Jot Touch 3 from Amazon link below if you have an iPad 2, or order the new Jot Touch 4 if you have a newer iPad or iPad Mini), the Wacom Intuos Creative Stylus and the Princeton Sensu brush. There are also other pressure-sensitive styluses and you are welcome to bring them instead if you wish. You'll be able to follow everything even with a regular non-pressure sensitive stylus but will simply miss out on the added brush control. Please note that the apps, the styluses and lunch are not included in the class fee.
Though we'll be sitting down most of the day, there will be a walking segment of the day where we go out and do plein air iPad sketching in the historic Art Deco district around the ArtCenter/South Florida. Therefore please wear comfortable shoes.
Accommodation
If you're going to visit Miami from out of town for this workshop I recommend staying close by the ArtCenter/South Florida in the historic South Miami Beach neighborhood. At the high end is the magnificent Art Deco Raleigh Hotel. A lower cost, but also historic, option would be the Greenview Hotel.
About Jeremy Sutton
Corel Painter Master Jeremy Sutton, author of the Painter Creativity series of books and founder of PaintboxTV.com, the online digital painting training resource, grew up in London and studied life drawing, sculpture and etching at the Ruskin School of Drawing and Fine Art, Oxford, U.K., while earning a degree in Physics from Pembroke College, Oxford University. He then studied lithography and life drawing at the Vrije Academie, The Hague, The Netherlands, before moving to the heart of Silicon Valley, California, in 1988. He was first introduced to using the computer as a fine art tool in 1991, and has been exploring the digital art medium ever since, using, teaching and demonstrating every version of Painter (he is on the Corel Painter Beta Team and Advisory Council). After a career selling superconducting magnets for Physics research, Jeremy became a full time professional artist in 1994. His art commissions have ranged from painting a live digital portrait of Sir Richard Branson on the Virgin Atlantic San Francisco Inaugural to performing live painting as a tableau vivant at the de Young Museum (portraying artists Edgar Degas, Vincent van Gogh, Pablo Picasso and Henri Matisse), painting one of the large Hearts on Union Square, San Francisco, and performing live digital painting for the Cirque du Soleil TOTEM show in their Tapis Rouge VIP tent in San Francisco. Jeremy will be performing live iPad painting at the De Young Museum on October 25 and November 1 in celebration of the opening of the David Hockney Bigger Exhibition.