Vespa sketched by Jeremy Sutton from one of the breakfast tables in the hotel
iPad Art & Sketching Hands-on Workshop
Creative cross-media training at the cross-roads of civilization!
Instructor Jeremy Sutton & Co-Instructor Peggy Gyulai
Instruction days: November 1st – 4th, 2016
$2,425 (excluding hotel, travel and food)
Click here to register for this class.
Enjoy learning urban sketching "en plein air" with both the iPad as well as with some traditional non-digital media in one of the most ancient cities of Europe!! This workshop takes place on the beautiful historic city-island of Ortigia, the historic heart of Siracusa in Sicily, Italy. Ortigia is located on the Mediterranean Sea and, like much of Sicily, was first settled by the ancient Greeks over three thousand years ago, and then by many other civilizations over the centuries (see them listed in the article Why Sicily in 2016). Ortigia is a very small (1 mile long) walkable island where you are surrounded by history and each step reveals incredible colorful textures, structures and surfaces. The workshop is based in a beautiful four star hotel on the water front, with technical instruction each morning and plein air sketching every afternoon. This four day workshop will include iPad art training from Jeremy Sutton, plus watercolor, pen, pastel and pencil sketching techniques on paper (the non-digital kind) taught by co-instructor Peggy Gyulai. We'll mix it up with cross-media creativity, capturing some of our non-digital sketches and textures in the iPad and then continuing to work on them digitally. Thus you will gain a deep and versatile cross-media sketching skill-set, digital and non-digital, that you can apply wherever you are.

Panorama at sunrise from the hotel balcony
Beautiful Location on Waterfront in Historic Ancient City

"Seascape" iPad painting by Peggy Gyulai, from the hotel balcony
The workshop hotel is the
Royal Maniace Hotel (4-star hotel), 13 Lungmare, Ortigia, 96100 Siracusa SR, Italy, Tel. +39 0931 67437 / +39 0931 463815 Email: reservation@maniacehotel.it. Please contact the hotel directly and book your room for this workshop.
Overlooking the Mediterranean Sea, this contemporary-style boutique hotel is next to the Palazzo Bellomo Museum, a 3-minute walk from the fountain Arethuse and a 4-minute walk from the 13th-century castle Castello Maniace. It's also a 10-minute walk from the historic Temple of Apollo and the Santa Lucia alla Badia Church that houses Caravaggio's Burial of St Lucy.The bright, modern rooms with parquet flooring provide free Wi-Fi, flat-screen TVs, room service and minibars. They have a limited number of rooms with balconies and sea views which I recommend asking for when you book. The room rate (around €110 per night) include a delicious breakfast buffet in the hotel's waterfront dining room with exposed stone walls (see Vespa sketch below). There's also a lounge, study (shown below) and garden.
Cost
$2,425, includes tuition by Jeremy and Peggy, a deluxe starter sketching kit, and entrance to any historic sites or museums visited as part of the workshop. Does not include hotel, travel or any meals. Please register prior to October 26th, 2016.
Click here to register for this class.

The Deluxe Starter Sketching Kit
Please be aware that all class registrations are non-refundable, as outlined in the Terms and Conditions: "All purchases, including all registrations for workshops and classes, are FINAL and are NON-REFUNDABLE. If a user changes their mind, or is for any reason unable to attend a class or workshop they registered for, and can give more the seven days notice before a class starts, then the value of the registration payment can be applied to a later class or workshop or any other product or service offered on PaintboxTV®."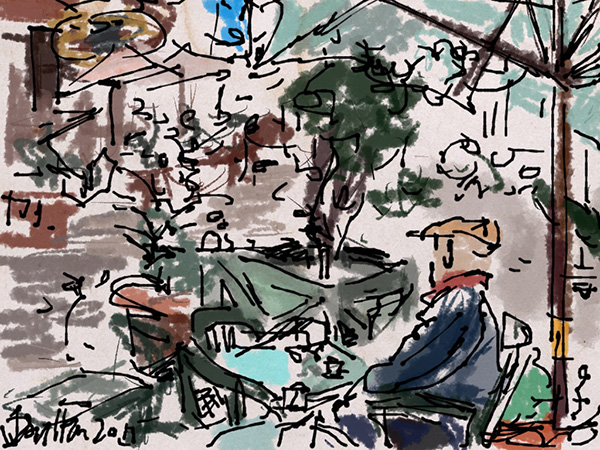 Ortigia Cafe iPad painting by Jeremy Sutton

Watercolor and pencil sketch by Peggy Gyulai
Schedule
Check in on Monday evening, October 31st, 2016. There will be an informal pre-workshop get-together that evening for those who arrive by early evening.
Tuesday – Friday, November 1st – 4th, the daily workshop rhythm will be to meet in the study at 10am for approximately two to three hours of technical instruction with demos and exercises. Please make sure you charge your iPad (and Apple Pencil if you have the iPad Pro and Apple Pencil combination) overnight so it is fully charged for the morning session. We'll then head out (with iPads) for a lunch followed by different locations each day. There will be different subject matter themes throughout the week, such as cafe scenes, alley way vistas, looking out of windows, waterfront cityscapes, marketplace bustle and ancient structures. During each afternoon Peggy will give a traditional technique sketching demo and everyone will have an opportunity to learn and practice traditional media sketching to complement and enrich their iPad painting skills. As mentioned we will also cover some cross-media techniques where you continue working on traditional sketches in your iPad. While the main focus of the week will be sketching from direct observation, the syllabus will include some techniques for mixing in photo and photo-collage into your paintings using apps like ArtRage. Saturday, November 5th, is a relaxed, optional, non-instructional "independent exploration and practice" day. As a minimum we recommend planning to arrive on the Monday, 31st October, and staying through the Saturday, 5th November.
Here is a provisional guide to some of the iPad apps we will touch on and explore during this four day creative extravaganza:
Introduction, Key Tools, Warm Ups and Studies – Tuesday, 1st November
Jeremy (digital media): iPad art organization, making the most of textures, exploration of the deep and diverse art combo of Procreate and ArtRage.
Peggy (natural media): Creative sketching warm-up and studies.
Quick Sketching – Wednesday, 2nd November
Jeremy (digital media): Loose line work using pencils, pens and brushes with graphic touches – Sketch Club, Tayasui Sketches II and Art Set Pro.
Peggy (natural media): Quick sketching with dry media – taking lines for a walk..
Photos to Paint, and Wet Media – Thursday, 3rd November
Jeremy (digital media): Painterly fun with photos and transform existing sketches using apps like Glaze, Waterlogue, iColorama, Pixelmator and Motion Paint, as well as simple color sample and paint techniques in apps like Art Set Pro and Art Rage.
Peggy (natural media): Working with, and into, combination wet/dry media using pen and water soluble pencils and pastels..
Layer Mania & Cross-Media Techniques – Friday, 4th November
Jeremy (digital media): Returning to the Procreate and ArtRage combo, we will look at layer techniques for collage, montage, textural enrichment and color creativity, plus some multi-app techniques! Will include working with natural media sketch source material in the iPad.
Peggy (natural media): Combined and cross media sketching techniques (a la "fritto misto") using all physical media covered.
Please visit the iPad Art Tools page for stylus, app and accessory links and an extensive list of the art-related apps I have on my iPad.

"Cafe Scene" by Jeremy Sutton
Level
This workshop is suitable for all levels of artist, from those who are new to drawing or new to the iPad, through to experienced professionals. Everyone will get something out of this workshop and the small class size ensures personalized and individual attention.

Sunrise painted by Jeremy Sutton from the hotel balcony
What to Bring
Equipment-wise, you'll need to bring with you an iPad and stylus and suitable plug adaptors and cables for charging your iPad and stylus. Please ensure your iPad has plenty of free space both for the artworks and replay videos you'll create, as well as for photos you'll take. I highly recommend the iPad Pro (either size) and Apple Pencil combination. The four days will include training in various apps on the iPad, outlined above. Please ensure that you have all the apps listed in the schedule above installed in your iPad prior to the workshop. There is Wifi in the hotel but I would not leave installing apps to the last minute. We will supply a starting sketching kit for the non-digital skide of things, though you are welcome to bring your own sketching materials as well.
Clothing-wise, November can be a wet month so I suggest layered clothing with some water-proofs like a lightweight anorak. Temperatures are typically in the range 13°C/56°F to 17°C/62°F. You'll probably want to have a light jacket or sweater with you for the evenings.
Getting There
The nearest major airport to Ortigia is Catania Airport. Most flights to Catania from major European cities stop in one of Italy's larger cities. It is about a 60 minutes drive from Catania to Ortigia. The cab ride will be about €80. There is a direct Interbus service between Catania Airport and Siracusa. Slightly slower but more picturesque is the Trenitalia train, taking a total of about 2 hours travel time. To catch the train first take an AMT bus from Catania Airport to the Catania train station. The train journey costs about €10. At the other end I recommend just getting a cab from the train station to the hotel (ten to fifteen minutes).

Peggy Painting by Jeremy Sutton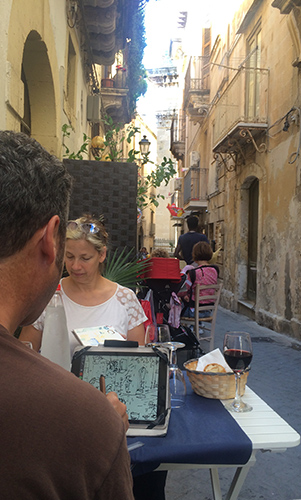 Jeremy Sutton, Instructor
Click here to see examples of Jeremy's art . Corel Painter Master Jeremy Sutton, author of the Painter Creativity series of books and founder of PaintboxTV.com, the online digital painting training resource, grew up in London and studied life drawing, sculpture and etching at the Ruskin School of Drawing and Fine Art, Oxford, U.K., while earning a degree in Physics from Pembroke College, Oxford University. He then studied lithography and life drawing at the Vrije Academie, The Hague, The Netherlands, before moving to the heart of Silicon Valley, California, in 1988. He was first introduced to using the computer as a fine art tool in 1991, and has been exploring the digital art medium ever since. After a career selling superconducting magnets for Physics research, Jeremy became a full time professional artist in 1994. His art commissions have ranged from painting a live digital portrait of Sir Richard Branson on the Virgin Atlantic San Francisco Inaugural to performing live painting as a tableau vivant at the de Young Museum (portraying artists Edgar Degas, Vincent van Gogh, Pablo Picasso and Henri Matisse), painting one of the large Hearts on Union Square, San Francisco, and performing live digital painting for the Cirque du Soleil TOTEM show in their Tapis Rouge VIP tent in San Francisco. Jeremy has performed live iPad painting at the De Young Museum in celebration of the opening of the "David Hockney: Bigger Exhibition"; at the Smithsonian American Art Museum, Washington DC, for the "America Now! Innovation in Art" event; at the Rijksmuseum, Amsterdam, as part of the "Hands On!" conference; at the Victoria & Albert Museum, London, where he taught a one day iPad workshop; and at numerous corporate events and conferences around the world.
Peggy Gyulai, Co-Instructor

"Ortigia Tratorria" watercolor by Peggy Gyulai

Click here to see examples of Peggy's art . Peggy is a professional artist who was classically trained in portrait and figure drawing at the prestigious Pennsylvania Academy of the Fine Arts, and who has studied digital painting with Jeremy over the past ten years. She is an accomplished iPad painter who frequently assists or works with Jeremy, including when he taught Figure Drawing at the mobile Digital Art & Creativity Summit 2015. In this workshop Peggy will teach traditional sketching technique alongside helping with the iPad sketching.

"Mediterranean" watercolor by Peggy Gyulai, painted at Gardini-Naxos, Sicily

Ortigia Alley painted by Jeremy Sutton using Corel Painter 2016 on a Mac with a Wacom pen-tablet