Expectation
Welcome to the world of online streaming and Zoom virtual meetings! On this page I review how to prepare for your first Zoom meeting and what to expect when you join a meeting. Virtual meetings tend to start with a few minutes of confusion and troubleshooting (and sometimes frustration) on all sides:— presenters and participants. Please be kind and patient with yourself and others in any virtual meeting. Assume that about ten minutes will elapse for everyone to get their video and audio working, to arrange the windows in their screen, and to find the chat. My goal in this Zoom 101 page is to make the Zoom experience as pleasant, un-confusing and trouble-free as possible for everyone. I recommend you read it through once and then refer back to it as needed. There are also some very useful Zoom training resources at the bottom of this page.
Preparation
Microphone

Decide on what microphone you'll use: the built-in computer mic, a headset mic or a higher quality USB mic (like any of the Blue Snowball range https://www.bluedesigns.com/products/snowball/).

Speaker

Decide on what audio speaker you'll use to hear the conversation: built-in computer speakers, headset or ear buds.

Camera

Decide on which video camera to use to show your face in the meeting: either the built in computer camera (called "Facetime HD Camera" on some Macs) or a stand-alone USB webcam such as the ones mentioned in this article https://www.techradar.com/news/computing-components/peripherals/what-webcam-5-reviewed-and-rated-1027972).

Lighting

Do a quick test of your video so you can see what people will see when you join. You can do this easily, for instance, using QuickTime / New Recording. In addition you will often see a video preview when you join a Zoom meeting. Try to have some light on your face and avoid strong backlighting (like a window) which makes you look like a silhouette. Sitting further back from your computer or device, if you're using your computer or device's built-in camera, can also help and make it look like you're looking at other attendees rather than the downward look as you look at your screen when close to the camera.

Background

Besides vanity it is also easier on the eye and less distracting to have a de-cluttered background. Clean up your environment (at least what will be visible in the meeting!) When you do your test see what people will see behind you.

Privacy

Though you will be in full control of your computer or device and there will be no screen share without your permission, as a general rule it is best to close any personal, confidential or private information such as emails, bank websites, etc, and make sure your desktop (virtual and real) is clean.

Assume any meeting is being recorded and never say anything you wouldn't want to share with a larger audience. In other words do not share confidential information or denigrate others. In Zoom you'll always see a small red Recording sign in the upper left when the meeting is being recorded within Zoom. However a meeting might also be recorded by a participant using a screen recording program in which case you would not see a visual clue.

Etiquette

Treat a virtual meeting as you would any in-person meeting. Be nice to others, polite, professional, respectful, patient and kind.

Dress

What you choose to wear can be a way to reflect your personality. Generally block colors and avoidance of high contrast clothing is easier on the eye of the viewer. Consider how your clothing will look against your background. Avoid green in your clothing if you plan to use a virtual background.
Registration
Joining one of my Zoom meetings usually starts with a very simple, quick and easy registration process. I'll provide you with a Registration url and you'll just need to put in your first and last name and email. I never share your Zoom information with any third party. When you register you automatically receive a url link (sent via confirmation email) to use to join the meeting itself. Registration includes giving permission to be recorded. My meetings are often recorded for educational purposes and many are posted on PaintboxTV. Sometimes I will do a meeting without any registration, in which case just click on the provided link to join the meeting.
Joining a Meeting
When you click on that link you may have the option of joining via the Zoom app (recommended) or via your web browser (less options within the meeting). Please note that I may have set the meeting to start with everyone's video (webcam) and audio turned on. It's best to assume when you join a meeting that your video and audio are on and therefore watch what you say and show:-) You can always mute your video and audio once you join by clicking on the microphone and video symbols (in the bottom left on the Mac or PC and in the top right on the iPad).
Here is an example of what you may see as you join a meeting.
Before you enter a meeting you may see a video preview window and be offered the choice whether you wish to join the meeting with or without video. If you choose without video you will be represented by your name against a dark gray rectangle.
Audio Settings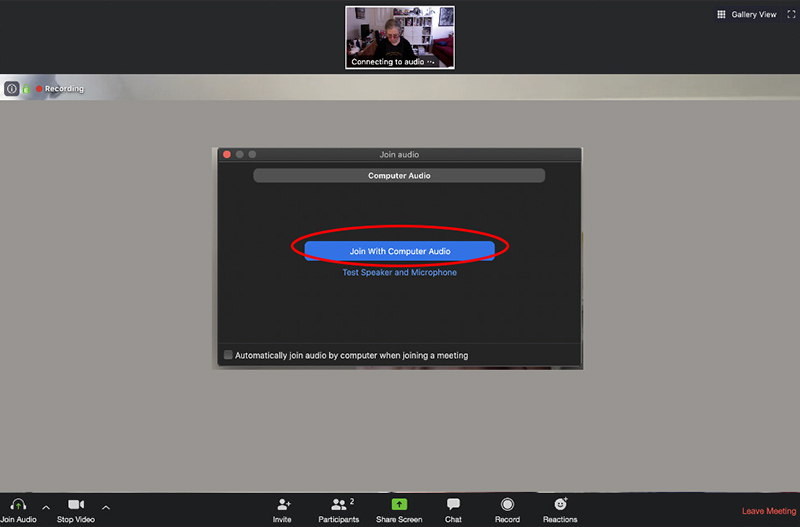 When you join a meeting you'll be asked to choose your audio option. This is referring the option for hearing what is said in the meeting. Choose "Join with Computer Audio" or the equivalent. On a device like an iPad you may see the device audio choice described as "Call using Internet Audio".
Mac or PC audio and video settings icons are in the bottom toolbar on the left (tap on chevrons to see pop-up menus). On the iPad the audio and video settings icons are in the top right. If you don't see any settings icons at all just tap your cursor in the Zoom window and they will magically appear! By clicking on the upward chevron to the right of the microphone symbol (Mac/PC) you can access the audio settings and adjust both your speaker and microphone settings.
After joining a meeting, setting up your audio settings and making sure you're aware of whether your audio and video are muted or not, you should see and hear the presenter. If you do not, please type in the Chat that you can't see or hear the presenter. Sometimes they may not be aware they they have accidentally muted themselves! Do not assume that the issue is at your end:-)
Speaker View versus Gallery View
Once you've joined a meeting and have your audio and camera settings sorted out and can see and hear everything okay and be seen and heard okay, then you can manipulate the arrangement of windows in your Zoom screen. Before I share a screen (such as my iPad screen or Painter desktop) there are usually two settings for arranging the video thumbnails of all attendees (including the host / presenter):
Speaker View

In Speaker View the current person speaking appears large and the other attendees are arranged around them (usually on top). The problem with Speaker View is that if anyone makes a noise their video thumbnail may jump into being the main view as the Zoom system considers them the current speaker. It can get a little dizzying as different people's videos suddenly jump into enlarged view.

Gallery View

In Gallery View (grid of small squares icon), which is what I recommend, everyone is arranged in equal sized video thumbnails (or represented by their name only if they have chosen not to show their video).
Whichever View you are in you will see (often in upper right on Mac / PC and upper left on iPad), somewhat confusingly, the name of the other view. The iPad version includes "Switch to Gallery View (or Speaker View)". This name is a toggle button that you tap to change to the other view. If you're a presenter you may also see a Presenter view. For more information on Views see the Zoom info page called Rooms Display Options on this subject. Zoom uses the word "Room" to denote a self-contained virtual meeting space with people in it. There can, for instance, be Waiting Rooms where people congregate before a meeting starts, and Breakout Rooms where attendees breakout into small groups.
If you see a Zoom settings window covering up some of your screen you can just hide it by clicking on the red close button in the top left corner of the window. When the host is sharing a screen you'll have the chance to view just the presenter video thumbnail and either stretch or shrink it by dragging in the corner of the thumbnail.
Video Thumbnail View Options During Screen Share
When the presenter is sharing a screen, such as when I share my iPad screen or Corel Painter screen, the attendee video thumbnails will be grouped in a "box" or window, with three small arrangement icons in the top left title bar of the box. This is what the three arrangement icons do:
The flat line on left minimizes the box.

The single rectangle in the middle shows just the speaker only, a view which also allows you to stretch or shrink the box by dragging in the corner.

The two rectangles on top of each other on the right arranges the thumbnails together in a block, a bit like the Gallery View.
Full Screen
On a Mac or PC I recommend going into Full Screen mode by clicking on the "Full Screen" icon (feint square) in the top right corner. Once you are in Full Screen you can return to regular view by clicking on your Escape (esc) key or the "Exit Full Screen" icon, a feint "inverted square", in the top right.
Virtual Backgrounds
Under the Video settings you'll find an option for Virtual Backgrounds. These can be great fun to play with! By clicking on the default backgrounds you'll see them appear behind you (expect to see lots of Golden Gate Bridge backgrounds:-)). By clicking on the "+" symbol in the top right of the Virtual Backgrounds pop-up window you can make any image file you have access to a virtual background. Zoom then saves all the background images you open as Virtual Backgrounds. You may find that the Virtual Backgrounds "eat" into your image on screen and, if you are wearing anything green, appear in your clothing as well! Virtual backgrounds are a fun way to customize your look on screen and reflect your art or photography in the background.
Interaction
Besides interacting via your voice and video, on a Mac or PC you'll also find three other ways to interact with others and communicate with the meeting host.
Chat

The Chat icon in the bottom icons bar allows you to type messages to everyone and also privately to each other.

Emoticons

The Participants icon opens the Participants List that allows you to add non-verbal feedback "emoticons" next to your name in the Participants window. These emoticons include a hand up, yes, no, go slower and go faster icons. In the "..More" pop-up you'll also find more feedback icons for things like thumbs up and down, clapping, taking a break (cute mug icon!) and stepping away (clock icon).

Reactions

The Reactions icon, which is in the main dock along the bottom, allows you to add a clapping hands or thumbs up icon into your video window.
Mute Protocol
When I start a small meeting I usually set the attendees audio and video to on as they arrive. If you have a loud sound going on, such as a barking dog or a phone ringing or child screaming, please immediately mute yourself once you join (by clicking on the microphone symbol) out of courtesy to everyone else. For large numbers of attendees the audio is usually automatically muted.
Once I officially start any presentation I automatically mute all attendees so everyone can hear me clearly. During a session I may ask a question of someone, ask them to explain something or elaborate on a question they've asked in the chat or engage in a conversation. In that case I will leave it to the person to unmute themselves and then re-mute themselves afterwards. That keeps it simple and avoids the confusion of both me and the other person trying to unmute them at the same time!
Leaving Meeting
You're free to leave any meeting at any time. If you're stepping away and will return it's useful to activate your stepping away emoticon (in the Participants / More.. window) so if I want to ask a question I know you're not available at that moment but will look back later when you return. At the end of any meeting I, as the host and presenter, end the meeting for everyone. You don't need to do anything. Once I end the meeting for everyone you'll automatically find the meeting ends on your computer or device.
Resources
Zoom's Advice on Effective Remote Working

Zoom's Student Tips for Participating in Online Learning