Enchanted Pond, Jeremy Sutton, 2019, iPad Pro 12.9 (3rd gen.), Apple Pencil 2, Procreate 4
de Young Museum, 50 Hagiwara Tea Garden Dr, San Francisco, CA 94118
Saturday, May 4th, 2019, meet in de Young Café at 9:30am. Class finishes 5:00pm.
All Levels Welcome
$450, includes lunch at the de Young plus entry to the Monet: The Late Years exhibition
To register please visit the workshop Eventbrite page.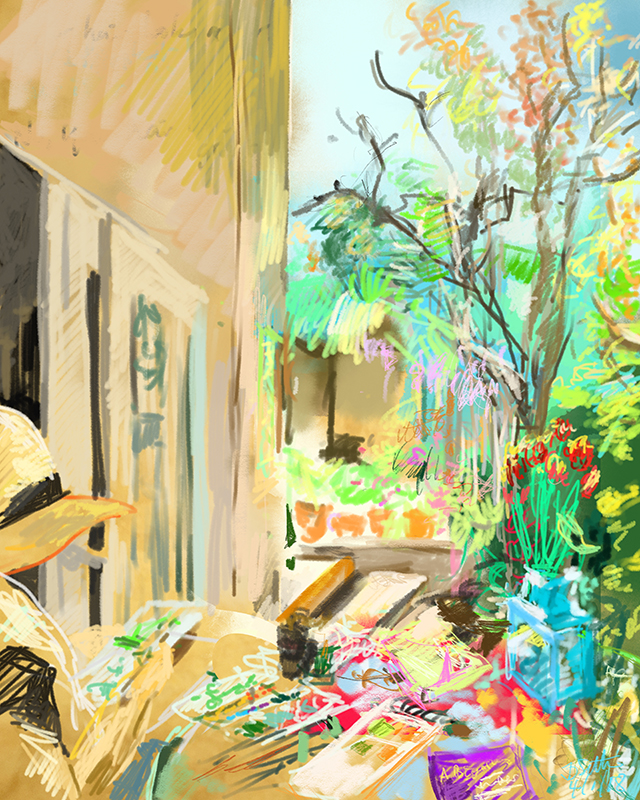 Peggy Painting in West Hollywood Garden, Jeremy Sutton, 2018, iPad Pro 12.9″, Apple Pencil, Procreate 4
Inspired by the colors and brush strokes of Monet as seen in Monet: The Late Years exhibition at the de Young Museum, learn to paint scenes from direct observation using the iPad. This workshop starts off with a visit to the Monet show, then lunch in the museum cafe and an afternoon of instruction, demo and plein air iPad painting at the beautiful Enchanted Pond in the grounds of the de Young Museum. Enjoy learning how to sketch and paint with your iPad using premier pro painting app Procreate in a loose, artistic, expressive way, making use of versatile brushes and powerful layers. This workshop combines the technical with the artistic. Whether you are completely new to drawing and painting, or are an experienced artist, you'll find this workshop an enjoyable, educational, stimulating and inspiring experience that will equip you with the skills and insights to make the most of your iPad as a fabulous portable art studio!

Google Bikes, 2017, iPad Pro 12.9″, Apple Pencil, Procreate (part of the Iconic Silicon Valley Places series)
What we'll cover:
Context & Inspiration – A look at the artistic inspiration of Claude Monet;

Set Up & Prepare – Setting up your iPad for making and sharing art;

Plein Air Kit – What you'll need to paint on location;

Capture Backgrounds – How to capture, store and organize backgrounds;

Mise En Place – Prepping and optimizing Procreate for maximum creative power and flow;

New Canvas – How to open, define size, name and save a new canvas;

Background – How to import a photo as a background upon which to paint;

Brushes – How to choose, control, customize and organize them;

Color – Alternative ways to choose, pick and save color;

Layers – How to work with and understand layers;

Workflows – exploring different approaches and techniques to drawing on the iPad;

Select & Transform – How to select and transform (rescale, distort and move) sections of your drawing – very useful in adjusting proportions and expanding your composition while drawing;

Time-lapse Recording – How to record, replay and export your process (internally with Procreate, plus using iOS record feature);

Save & Share – How to save, share and export your art;
Cost
Workshop fee is $450, includes extra custom Procreate brushes, lunch and entry to the Monet show.
How to Prepare and What To Bring With You
Please bring a fully charged iPad Pro and a fully charged Apple Pencil. Though other models of iPad with other styluses can still work, once you use the iPad Pro and Apple Pencil you'll feel the difference! On your iPad go to Settings / General / Software Updates and ensure you have the latest iOS installed. In your iPad App Store go to Updates and ensure you have installed any Procreate update and therefore are using the latest versions. Visit the new Procreate Discussions web site, register on the Procreate site if you haven't already, and explore the Resources and Marketplace sections for great extra brushes. For more art app suggestions and links please see iPad Art Tools.
Resources
During the workshop I'll share with you some extra brushes. Meanwhile, if you want to dive in immediately and get going there are several online resources I recommend:
1. The Procreate Community
Join the Procreate community! There are tons of amazing brushes and resources available – some shared for free under Resources and some sold in their Marketplace. You'll learn a lot here.
2. Free Procreate User Guide
Download the Procreate User Guide into the iBooks app on your iPad. It's also available as a free PDF download. It's a very detailed and thorough guide.
3. PaintboxTV.com
PaintboxTV.com is my subscription-based online learning resource that includes many video tutorials on Procreate (plus other apps), extra resources for Procreate (I'll share these with you in the workshop no matter whether you join PaintboxTV or not), and a monthly online webinar style GoToMeeting session called iPadArtJam. If you're super keen to get going and want ongoing tutorials etc wherever you are, then this will be a worthwhile complement to the workshop.
Location and Hours
de Young Museum, 50 Hagiwara Tea Garden Dr, San Francisco, CA 94118. Meet in de Young Café at 9:30am. Class finishes 5:00pm.
To register and pay for this workshop please go to the workshop Eventbrite page. Workshop registrations are non-refundable, as outlined in the Terms and Conditions. If a user changes their mind, or is for any reason unable to attend a class or workshop they registered for, then the value of the registration payment can be applied to a later class or workshop by Jeremy Sutton or any other product or service offered on PaintboxTV.
Daedelus Quartet at Kohl Mansion, Jeremy Sutton, 2018, iPad Pro, Apple Pencil, Procreate 4
Accommodation Suggestions for Out of Town Visitors
Here are a few downtown hotels to consider. They are mostly about ten minutes cab ride from my studio. Always ask for their best rates – sometimes they have special rates and discounts. Also I recommend checking to see how much they are on Expedia or on HotelTonight, and then, before booking through either third party, first call the hotel directly and see if they'll match the rate. You will almost always have more flexibility if you book directly through the hotel rather than through a third party.
Hotel Emblem 1960s beatnik literary themed, comfortable, good location near Union Square, friendly staff
Hotel Griffon Opposite the Ferry Building – try to get a room with a view looking out at the Bay Bridge
The Marker Hotel Formerly Monaco Hotel
Hotel Beresford Above English style pub
Villa Florence Near Union Square
Sir Francis Drake Near Union Square, with it's own London-style Beefeater doormen
Sheraton PalaceGrand old classic
If you are not familiar with San Francisco please feel free to ask my opinion before you commit to a booking – I can advise you whether it is in a neighborhood I'd recommend or not. Please note that airbnb cancellation and change terms are frequently much more restrictive than booking a regular hotel room, and their prices sometimes not that much different – so I would suggest always seeing what is available in hotels first.

Deanna on Viola and Ryan on Cello, Parallel Play SF "Mostly Bach", 2016, iPad Pro, Apple Pencil, Sketch Club