This week I had the pleasure and inspiration of sketching beautiful artworks from The William S. Paley Collection: A Taste for Modernism at the de Young Museum, San Francisco. I'd like to share a few of my sketches with you, all drawn in a 9″ x 9″ Fabriano Artist's Journal (see Studio Materials). I enjoyed sketching in the square format pages. The paper has a nice subtle grain.


I started off with a quick pencil sketch of Alberto Giacometti's painting of his wife Annette, painted in 1950 a year after they married. I was fascinated with the way he left in all his construction lines, compresses the figure width-wise and picks away at the lines just like he does in his sculptures. The direct translation between Giacometti's paintings and sculptures is remarkable, each seeming to echo the other, and both evoking a lot about the process. As I stood there drawing, another museum visitor was discussing the painting and used the words "struggle" and "ambiguity". These words seemed very apt in describing the essence of the painting and what I strove to capture in my sketch.


The next painting that caught my eye for sketching was a colorful still life by Pierre Bonnard from 1939. At first glance it looked more like a Matisse than a Bonnard, replete with the vivid Fauvist choice of colors and color contrasts, the flattened perspective and strong pattern and abstract compositional elements. Bonnard and Matisse were close friends, both fascinating colorists. I used a limited set of Caran D'Ache Neocolor Aquarelle pastel sticks (also listed in Studio Materials) to make this sketch.


Turning to my left was a very different and much more muted Bonnard painting, a reclining nude from 1897. I loved the strong single contour of the figure that wound its way across the wide shallow canvas. I made a few quick pencil marks and tried to capture the quality of the lines as simply as I could.


As I walked into the next gallery in the exhibition right infront of me across the far wall of the gallery was a small but striking painting by Bonnard's friend Henri Matisse, "Seated Woman with Vase of Amaryllis" (1941). I decided to start sketching this painting from half way across the gallery where I could only see the rough forms and no detail. I purposely left my glasses off so the picture was slightly out of focus. This allowed me to just work with the large abstract qualities of the composition before getting carried away with reproducing detail. After about twenty minutes I moved closer and then started working over my initial rough sketch with a little more detail.


Finally the guard announced the museum was closing. With just a couple of minutes left I sat myself in front of a large dramatic Pablo Picasso painting, "Boy Leading a Horse", 1905-6. I then made a very fast two minute single line contour drawing (i.e. without lifting my pencil up). I always enjoy this exercise – a great discipline in intense observation combined with continuous movement on the paper.


I went back to the show on the last day of the exhibition and made a final sketch of André Derain's Bridge over the Riou (1906). This magnificent Fauvist work was created just a year after the first Fauvist exhibition. Using the same Caran D'Ache crayons as earlier, I sat on the bench facing the painting and, between the crush of last-minute "catch the show just before it closes" visitors between me and the painting, I was able to catch enough glimpses of the painting to sketch. I looked at it as an abstract and didn't worry about what the color strokes, dabs and shapes represented. I started with a bright red crayon, mapped out some basic forms and went from there. You can see in the two photos and short iPhone movie below the progression of the sketch. I found that later in the sketch I wished I'd left more empty space. It's tough trying to add lighter color over darker when using pastels and crayons, better to recognize early on where you want the light values to stand out.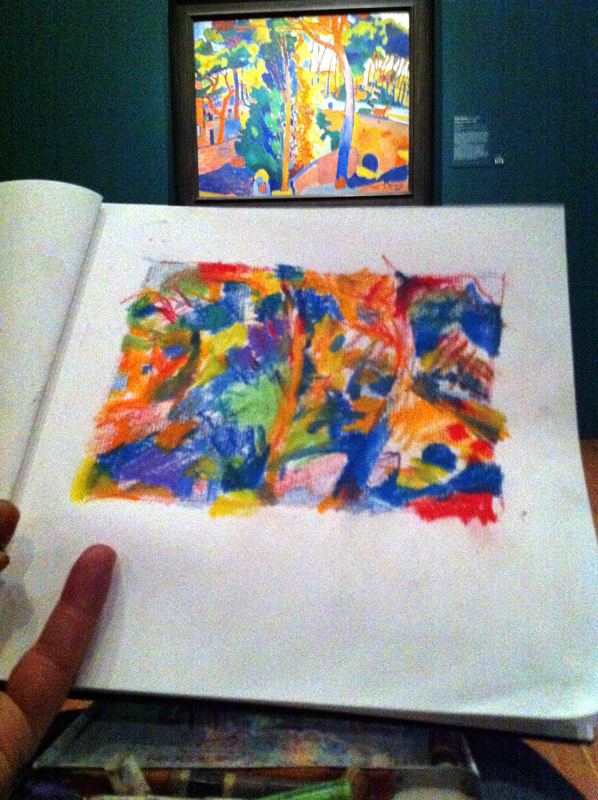 I hope you enjoy these quick sketches. Please feel free to email me a small jpg now and then of any gallery sketches you make. We can learn a lot from sketching paintings. I find sketching from an actual original artwork is a completely different quality of experience compared to sketching based on a photograph of the same artwork in a book.


Happy sketching!


Jeremy Sutton

December 28, 2012