Part 1: George shares the amazing story of how, as a nineteen year old student at Carnegie-Mellon University in Pittsburgh, he interviewed the great big band swing era bandleader Count Basie and how that meeting changed his life. You'll also hear about the influence of shared moments growing up in Manhattan, New York City, listening to swing music on the radio with his father; and of his first big band professional performance at a university talent show (which he won); and how he performed live big band swing music at the local new wave / punk club, the Electric Banana, in Pittsburgh!
Part 2: What does a bandleader do? What makes a tune swing? Transition from Pittsburgh to New York. Connection with the New York Swing Dance Society and Lindy Hoppers worldwide. Special friends: Frankie Manning, Dawn Hampton and Norma Miller. Playing at the Red Parrot, Apollo Theater and 23rd anniversary of residency at Swing 46. Parting words: let's all swing together.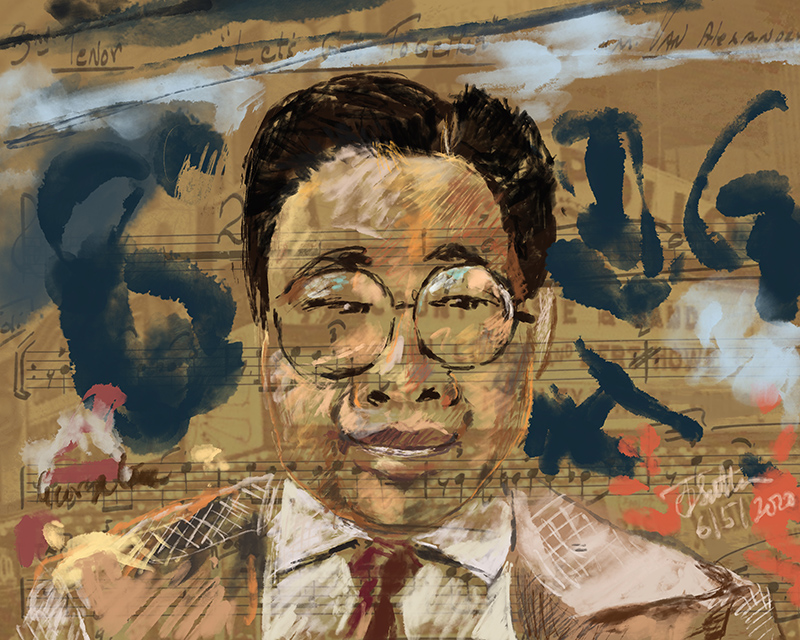 Enjoy The Portrait Conversation with featured special guest George Gee, charismatic one-of-a-kind bandleader with four decades of making people happy with the music of the 1940s big band swing era. This was originally broadcast May 29th and June 5th, 2020. George Gee embodies his motto "Swing makes you happy!" This Portrait Conversation coincides with the celebration of George Gee's 40th anniversary of his first professional big band gig; his 60th birthday year; his 23rd anniversary of his first show at Swing 46 where he has been the resident band every Tuesday night ever since; the month of Lindy Hop Ambassador and Pioneer and friend of George Gee, Frankie Manning's 106th Birthday; plus the twenty years anniversary since George met his wife, Mutsumi, at a Frankie manning event in Japan. Congratulations, George!
Visit George's YouTube channel with lots of historical recordings dating back 40 years, including his historical 1979 interview with the legendary and iconic big band swing bandleader and composer, Count Basie.
George Gee and His Make-Beleieve Ballroom Orchestra playing on their first west coast tour and, in this clip, performing with Bat=y Area guests Lavay Smith and Chris Siebert at the Claremont Hotel, Oakland, California, in 1998
A native New Yorker, George always loved music. He grew up with rock'n'roll and R&B but in his teens, he also developed a powerful passion for jazz — especially the big band styles of Count Basie, Duke Ellington, Lionel Hampton, Benny Goodman, Cab Calloway and other legends. At renowned Stuyvesant High School, George played the double bass in the school's jazz band, where he demonstrated an early flair for showmanship.
This passion continued into his first year at Carnegie Mellon University in Pittsburgh. George created a big band music hour for the school's radio station; off-air, he often spoke of his true long-time dream: leading his own big band. It's easy to imagine this idea would not be readily accepted by college students in the early 1980's, but in fact, George and his show were a huge hit!
The station manager asked George to interview William "Count" Basie before a campus concert in 1979. This inspiring conversation changed George's life… the very next day, he reached out to fellow jazz players to create a 17-piece big band, which quickly became a darling of the campus community.
After spending a decade in Pittsburgh honing his craft, George returned to his NYC hometown in 2000 just in time to continue his Big Band aspirations. As faith would have it, swing Big Band jazz unexpectedly (to everyone except Gee) became a cultural phenomena sweeping across the country and world! Swing Dancing and Music became the rage among a younger audience and a generation nostalgic for it. With a wink and a nod, bandleader GG held court weekly at New York City (Times Square) swing jazz nightspot SWING46, where two decades later they still dominate the Big Apple Big Band swing scene!
Here are some newspaper clippings from George's early days in Pittsburgh.
In talking with George in preparation for this Portrait Conversation, George asked me to include a donation link to the Louis Armstrong Foundation Emergency Fund for Jazz Musicians. You'll find this link immediately below. Just click on the graphic to go to the Emergency Fund's online donation form.
Please click on these wingtips to tip! Thank you for supporting the creation and sharing of art, entertainment and inspiration on this site. Besides donation, another way to support is by joining PaintboxTV.com which gives you access to hundreds of tutorial videos, custom digital art extras and participation in member-only online courses. The shoes shown in this photo were amongst my first dance shoes when I started Lindy Hop swing dancing and were signed by two of my dance inspirational heroes: Frankie Manning and Norma Miller.