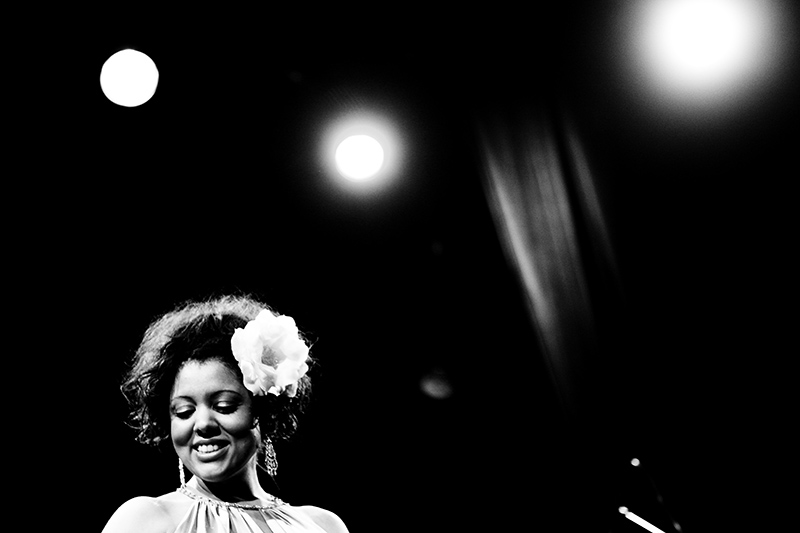 Jazz and blues singer Kim Nalley stirs the soul with song. She does so with panache, power and passion. See videos of her in action on her YouTube channel. In The Portrait Conversation we talked about her music, life and path, all while I sketch her portrait on my iPad, and all live via Zoom!
You can help support Kim by donating via Kim's PayPalMe page or purchasing her music from her website.
Two questions that were asked via the Chat in the last part of The Portrait Conversation are answered by Kim here (we didn't get to address these in the actual conversation):
From Melany: what do you do to get your voice ready for a gig or do you wake up in the morning sounding phenomenal?
Kim: A full night's sleep is the most important component. I avoid places where I have to talk loudly or for a long time. Hydrating adequately. Gentle warm-ups starting with hummings. Lots of scales. Yes I have to record I try to record after 12:00 because the voice isn't usually woken up in the morning.
From Carole: Loved all your time these last Saturdays, and always love your in-person performances. Have you finished the CD with Houston Person? Would really like to have it!
Kim: The CD that I recorded with Houston Person needs to be mixed and mastered which I haven't been able to do because the studio has been closed due to the Corona virus but I gave the engineer the okay to work on it by himself so that we can get it out sooner. Hopefully I will not have to do overdubs.
Part 1 (August 1, 2020): Kim shares how she engages with the band members in an improvised and musical conversation which goes back and forth, giving each space to shine. She talks about the importance of story, art and history in her music. She shares influential experiences and inspirations growing up in a musical family. At one point Kim refers to an online shelter-in-place project page she produced for teachers on Nina Simone's song Mississippi Goddam' and was asked for the link. Click here for the page. Please note that the first 7 minutes of this recording is the full clip of Kim singing "When the Saints Go Marching In" filmed by Brian McNitt at the 2013 Fillmore Jazz Festival. During the actual session I played this before the start time for those who arrived early but have included it in full here since I think it's important to see and hear Kim in action to appreciate what makes her so special.
Part 2 (August 8, 2020): Kim explains the history behind, and sings, the Black National Anthem. She discusses how singing without amplification in the Alta Plaza bar early in her career helped her develop the performance skills of reading, engaging and working a crowd, and commanding attention while protecting her voice. She discusses musical influences ranging from jazz great Sarah Vaughan to the legendary Etta James, and her mentors like BJ Papa and David Hardiman. Includes a priceless clip of her singing Etta accompanied by her 8 year old daughter Lydia.
Part 3 (August 15, 2020): This session touched on the following topics:
Musicality – Kim's role as a singer

History – from the 1990s swing renaissance to owning Jazz at Pearl's

Labels and Language – the difference (or not) between jazz, swing and blues

Social Change – John Lewis's advice and use of her voice for change

Scholarship & Education – her studies, research and the future

Generations – Kim and her grandmother, Gammy, singing When the Saints Go Marching In together at Le Colonial, San Francisco, 2009 (Corel Painter, Wacom tablet)

Kim Nalley with Houston Pearson, Monterey Jazz Festival
Photo: Wayne Saroyan


A born singer from a family that boasts several generations of jazz musicians, Nalley was taught piano by her great-grandmother and studied classical music and theatre in high school before relocating to San Francisco in the footsteps of the Grateful Dead. Working her way through college by singing in small dives and jam sessions, Nalley learned all of the intricacies of jazz the old fashioned way. Music critic Phil Elwood and San Francisco Symphony conductor Michael Tilson Thomas quickly discovered Kim Nalley and brought her to national attention after they noticed her singing nightly at the Alta Plaza to packed audiences – without amplification. Tilson Thomas hired Kim Nalley to sing a program of Gershwin with the San Francisco Symphony and recorded her farewell concert at the Alta Plaza.
Since then, Kim Nalley has performed globally, including major jazz festivals such as Monterey, Umbria Jazz and Lincoln Center and lived in Europe for several years before returning to San Francisco to re-open the jazz club Jazz at Pearl's. During her tenure from 2003 to 2008, Nalley raised the club to iconic international acclaim as the owner and artistic director.
She was awarded "Most Influential African American in the Bay Area" in 2005 and "Best Jazz Group" in 2013, and was shortlisted by Downbeat Critics Poll in 2017 as a "Rising Star" (Deserving Wider Recognition). She has collaborated with artists such as Rhoda Scott, David "Fathead" Newman, Houston Person, James Williams, Michael Tilson Thomas and the San Francisco Symphony. She has recorded several on both major and indie labels, including She Put A Spell On Me, which was short-listed for a 2006 Grammy Award, and Million Dollar Secret, which charted in the Jazz Top 40.
Nalley often combines music and history to create historiographical concerts , including her award-winning "Ladies Sing the Blues*," "She Put a Spell on Me: Tribute to Nina Simone," "Freedom's Song: Music of the Civil Rights Movement," musical director and curator for the Martin Luther King Institute's Commemoration of the 50th anniversary of the March on Washington and "The Heart of Lady Day," a Billie Holiday biopic. As a playwright she has written "Ella: the American Dream" a bio-musical about Ella Fitzgerald which premiered in 2008. As an actress, she portrayed Billie Holiday in the dramatic play "Lady Day in Love," Blues Speak woman in Zora Neale Hurston's "Spunk" and has starred in Teatro Zinzanni as Madame Zinzanni, a role subsequently filled by Joan Baez and Sandra Reeves-Phillips.
San Francisco-based Kim Nalley is on faculty at the California Jazz Conservatory. She is a Ph.D candidate in UC Berkeley's history department with plans to write her dissertation on the Globalization of Jazz and Black Cultural Politics. Nalley's many philanthropic endeavors include founding the Kim Nalley Black Youth Jazz Scholarship.
This photo shows Kim singing Nina Simone in front of my painting, Mississippi Goddam', a portrait of Nina Simone, at Kim's former club in North Beach, Jazz at Pearl's, in 2008.

Mississippi Goddam': Portrait of Nina Simone, 2005, 38″ x 57″, mixed media on canvas
This portrait is inspired by Simone's powerful song of the same name, Mississippi Goddam'. It has been displayed on stage a number of times when Kim has sung the Nina Simone songbook. The most recent occasion was on March 3rd, 2017, at the Freight & Salvage in Berkeley, California. These photos are from that show.
A little dancing with Kim during one number!
The song Mississippi Goddam was written by Simone in response to the violence against blacks in the civil rights era, including the 16th Street Baptist Church bombing (the four girls killed are shown on the left of the painting) and the killing of civil rights worker Medgar Evers (shown in the top right of the painting), both crimes referred to in the song.
More recently I attended a very special live session with Kim on vocals and Tammy Hall on piano at the KPFA studios ("BAJABA ShowCase" where BAJABA is an acronym for "Bay Area Jazz And Blues Artist") when Kim received the BAJABA Maisha Ya Kaza Bora Award ("Maisha Ya Kaza Bora" is Swahili which means "Good Work for Life" or the equivalent of "Lifetime Achievement"). Congratulations, Kim!! Here (below) is a video of her warming up before the performance with a beautiful rendition of the classic "Shiny Stockings".


Photo at the top of this page is by Diana August

Please click on these wingtips to support the creation and sharing of art, entertainment and inspiration on this site. Besides donation, another way to support is by joining PaintboxTV.com which gives you access to hundreds of tutorial videos, custom digital art extras and participation in member-only online courses. The shoes shown in this photo were amongst my first dance shoes when I started Lindy Hop swing dancing and were signed by two of my dance inspirational heroes: Frankie Manning and Norma Miller.